Rebecca Cartwright


Rebecca cartwright was born on 23rd July 1983, and plays the lovely Hayley Smith, Will's Smith's sister, on Australian drama Home & Away.
Rebecca has had many many extra and speaking roles on television and film, her first role being on Police Rescue, and then going on to star in Heartbreak High, Water rats and Totally Wild.
In fact, she starred on Home & Away in 1991 as an extra.
She has also done catalougue work, voice-overs for many corporations and commercials and heaps of television commercials, including Kellogg's, Pizza Hut, K.F.C, Colgate, Coca-Cola, Milo and Chrysler Jeep.
But Rebecca says her most exciting performance would have to be at Disneyland, California. In 1996 and 1997 Rebecca was given the opportunity to perform on stage at Disneyland with the Australian College of Entertainment.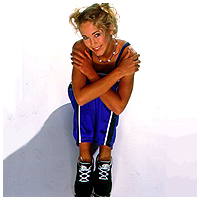 Rebecca now tries to juggle school, her role on Home & Away and dancing, of course. But this is a dream come true for Rebecca, who says, 'Everyone has been so nice, the cast are great and I am loving every moment of it, even the early starts'.
As well as work, Rebecca absolutely loves Winnie the Pooh. Her room is filled with everything from Winnie the Pooh dolls to Winnie the Pooh bags, keyrings, and even pencils. She comes to work with a Winnie the Pooh bag with keyrings hanging off it, and inside is her Winnie the Pooh organiser, pencil case with Winnie the Pooh pencils, and she even wears Winnie the Pooh earrings.
Rebecca lives at home with her mum and dad, her older brother Sean, older sister Kristy, her two dogs Abbey and Gizmo, and their horse Denni.
Rebecca first appered on Home & Away as Hayley Smith on September 28, 1998.